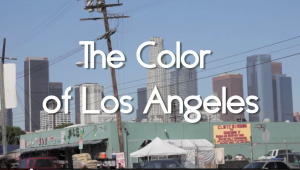 Through the eyes of an outsider, the city of Los Angeles is honorably known to be the home of Hollywood, and its portrayal in the film industry attracts people from all walks of life to catch a glimpse, something most cities can't claim.
It's often said that Los Angeles is really a collection of many different cities; you have to find the one that's right for you. This is what makes so many different people want to stay once they arrive. All ten million people living in Los Angeles County see the same city, but in different colors.
Our mission is to look in every alleyway, every street and corner that comprises LA and find the burst of colors that hide in this big city. Along this trip, we will ask the people we encounter what color the city of LA is to them: a question that many people have never answered or even thought about. We want to hear their abstract answers of this concrete metropolis and register this color and their story as a part of LA's vibrant history.